2014 Fall Pledge Drive
Help keep community radio going strong in east central Illinois.
Upcoming at WEFT
'Shadows of Liberty' Documentary
Tuesday, October 7, 7:30 pm, Art Theater Co-op
The documentary film, Shadows of Liberty, reveals the extraordinary truth behind the news media: censorship, cover-ups and corporate control.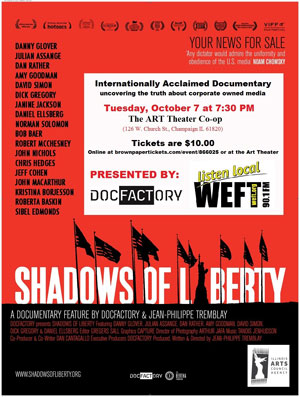 In highly revealing stories, renowned journalists, activists and academics including Danny Glover, Julian Assange, Dan Rather, Amy Goodman, David Simon, Normon Solomon, Bob Bear, Roberta Baskin, John MacArther, Daniel Ellsberg and Kristin Borjesson give insider accounts of a broken media system. Controversial news reports are suppressed, people are censored for speaking out, and lives are shattered as the arena for public expression is turned into a private profit zone.
Shadows Of Liberty is dedicated to the journalists and information freedom fighters, the heroes of our time, who dedicate their lives to our right to freedom of information - the central pillar of a free society. Shadows of Liberty provides a platform for voices that have been silenced and in doing so, attempts to inspire change and accountability. This film champions the idea of an independent media where truth and integrity are the norm, not the exception.
Tickets are $10.00, and can be purchased online at: Brown Paper Tickets or from the Art Theatre Co-op box office in advance or at the door.
Learn more about Shadows of Liberty and check out the film's trailer. Consider joining our Facebook event and inviting your friends too.
WEFT Airshifter Trainings
Our October airshifter training sessions are full, but you can get on the waiting list for the next round.
Download the airshifter application and let Vicki know you're interested.
Email airshiftertraining@weft.org for more info.
Parking Lot Fundraiser
Saturday, November 15, Champaign Telephone Company parking lot
It's Dad's Day and the Illini will be playing Iowa. WEFTies will be in the lot spreading joy and offering close-in parking for Illini fans thanks to the folks at Champaign Telephone.
More details later.