New WEFT Station Manager
We're excited welcome Lori Serb as our new station manager. Check out the News-Gazette's article from July 9 for more information.
Thanks for your support!
We appreciate your financial and volunteer support during our spring pledge drive. Together we showed a commitment to open & diverse dialogue, community engagement, music and fun.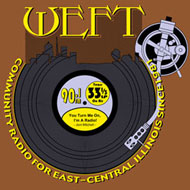 The t-shirts are in and will be shipped out this week.
If you have questions about your pledge premium, please call the station, 217-359-9338, and ask for Lori Serb.
If you have yet to send in your check, please remember to do so. Every contribution helps that much more, and we are counting on your pledge.