---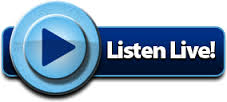 Listen Live!
Listen to WEFT's live broadcast in your browser, choose TuneIn to take WEFT anywhere on your smartphone or use your preferred streaming player on your computer.
---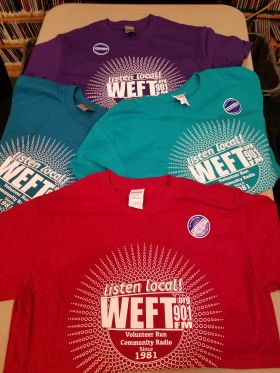 2020 Summer T-shirts
Here's a great way to support WEFT
We now have a special edition WEFT T-shirt available in 4 colors; Blue, Green, Red & Purple. They feature a stunning new design on the front and our schedule grid on the back. They are available in sizes Medium through XXL. Some sizes and colors may only be in limited quatities. Prices are $20 for Medium through XL and $22 for the XXL
Sales of these limited edition shirts are done through our Donorsnap pages.
We'd like to thank our faithful community of listeners. We also owe much to our Underwriters, Community Partners and granting agencies.
We want to send an extra thanks out to those folks that have made recent donations to WEFT. We have received some nice notes and Thank You cards from donors who have appreciated our volunteer efforts to bring you WEFT's mix of great music and information. Thank You!
---
Listen to WEFT on your schedule!
Visit our new
ON-DEMAND listening
option at Radio Free America.
WEFT 90.1 FM has teamed up with Radio Free America (RFA) to offer you an on-demand listening option for WEFT's locally produced programming. Click on "Full Archive" at WEFT's RFA page and then choose any calendar date listed and you'll see a list of recordings available from that date. WEFT will keep 130+ recordings of recent programs available for your on-demand listening.
---
WEFT Summer 2020 Letter
During the past few months, WEFT volunteers have stayed active. We organized the Remote Access Team; a small group of committed individuals who developed techniques allowing our Airshifters to record their programs at home. Once uploaded and playback started, it enables our unique programming to remain on our airwaves and streaming online.
During this coronavirus pandemic a limited number of Airshifters have continued to come into the station to bring you the insightful, challenging, eclectic and diverse shows that WEFT does so well. We bring you news and public affairs representing minorities and opinions less backed by commercial media, as well as the wide range of music we play.
Please consider a donation to WEFT through our Donorsnap Donation Page
Alternatively, you can print out our Summer 2020 Donation Form fill it in and mail it back to the station.
In the meantime, stay in touch, stay safe and do what you can to keep yourself and our community healthy
Thank You!
---
WEFT is a member of the NFCB - National Federation of Community Broadcasters
(Please read the entire statement at the link above, but here's one paragraph that is typical of the statement.)
The National Federation of Community Broadcasters maintains that fairness and justice depend on acknowledging social and historical context. NFCB stands allied with the movement for Black lives. We believe the voices of Black, Indigenous, and people of color must be heard. We are here, ready to listen and support.
---
CU Sings Volume 1 - Let It Be
Champaign-Urbana, Illinois holds a great treasure in the form of its music and art community. In the midst of this strange pandemic we all find ourselves in a remarkable group of 41 singers & 15 instrumentalists have come together to elevate the spirits of their city and beyond, with a recorded musical message and video: "C-U Sings Volume 1: Let It Be". All proceeds from the recording will be donated to Promise Healthcare who work diligently to provide affordable and accessible high-quality health care in Champaign-Urbana and Champaign County Health Care Consumers who help provide quality affordable health care for all and environmental health and justice.
Donations can be made through the Community Foundation of East Central Illinois themselves a generous supporter of WEFT 90.1 FM.
---
COVID-19 Updates
Updated 7/23/20
On 7/15/20 Illinois Gov. J.B. Pritzker announced a New Mitigation Plan to Prevent Resurgence of COVID-19 in Illinois.
The State is now separated into 11 Emergency Medical Services Regions
Expanding to 11 regions allows for a more granular approach in this phase of the response to COVID-19. Champaign is in the East Central region, including the following counties: Champaign, Clark, Clay, Coles, Crawford, Cumberland, De Witt, Douglas, Edgar, Effingham, Fayette, Ford, Iroquois, Jasper, Lawrence, Macon, Moultrie, Piatt, Richland, Shelby, Vermillion. Read about this new Mitigation Plan
WEFT has adjusted it's policies and proceduures to allow somewhat more access to the station while following the Phase 4 guidelines. The health and safety of our volunteers and Airshifters is our primary concern.
Stay Healthy! - Help your friends & neighbors!
Center for Disease Control cdc.gov/covid19 and consult their Tips for Prevention
State of Illinois - coronavirus.illinois.gov - Illinois Dept of Public Health IDPH
Champaign-Urbana Public Health District - COVID19 Information. For up to date information and a break down on the local data, visit their Coronoavirus Information Page
Illinois has opened a Free CBTS (Community Based Testing Site) offering drive-thru testing. The site is at Market Place Mall, enter off of Market St.
Possible sources of financial, food or rent assistance, Champaign Township, or City of Champaign Township, or Cunningham Township (Urbana)
Community Foundation of East Central Illinois and the United Way of Champaign County launched the Champaign County COVID-19 Relief Fund - they've distributed $234,000 in Food, Housing and Financial assistance
---
WEFT's Community Partners
Many of WEFT's Community Partners have cancelled or postponed events, some have temporarily closed their doors. Please call them and visit their websites or Facebook pages to learn when they'll return to normal operation.
Big Grove Tavern now offers limited patio seating as well as a curbside menu, it's recommended you call in advance.
Common Ground Food Co-Op has changed some shopping hours and sanitizing procedures.
Elliott Counseling Group FREE online support groups for the communty and for healthcare professionals
Krannert Center has announced it's Fall 2020 In-Person schedule has been canceled. It's website is a destination to explore virtual performances, menus, stories and more. Krannert Center thanks you for your steadfast support, and they look forward to seeing you before long.
Lodgic Everyday - Clever Moose Cafe Now offers Patio, Dine-In and All Day Curbside Pickup and Delivery.
Minuteman Press is Open! Please call or e-mail them for safe ordering, pickup and delivery options.
Urbana Park District cancelled most programs and events through July 31. Parks, walking trails, natural areas, tennis courts and the dog park are open, however playgrounds, basketball and volleyball courts are closed
---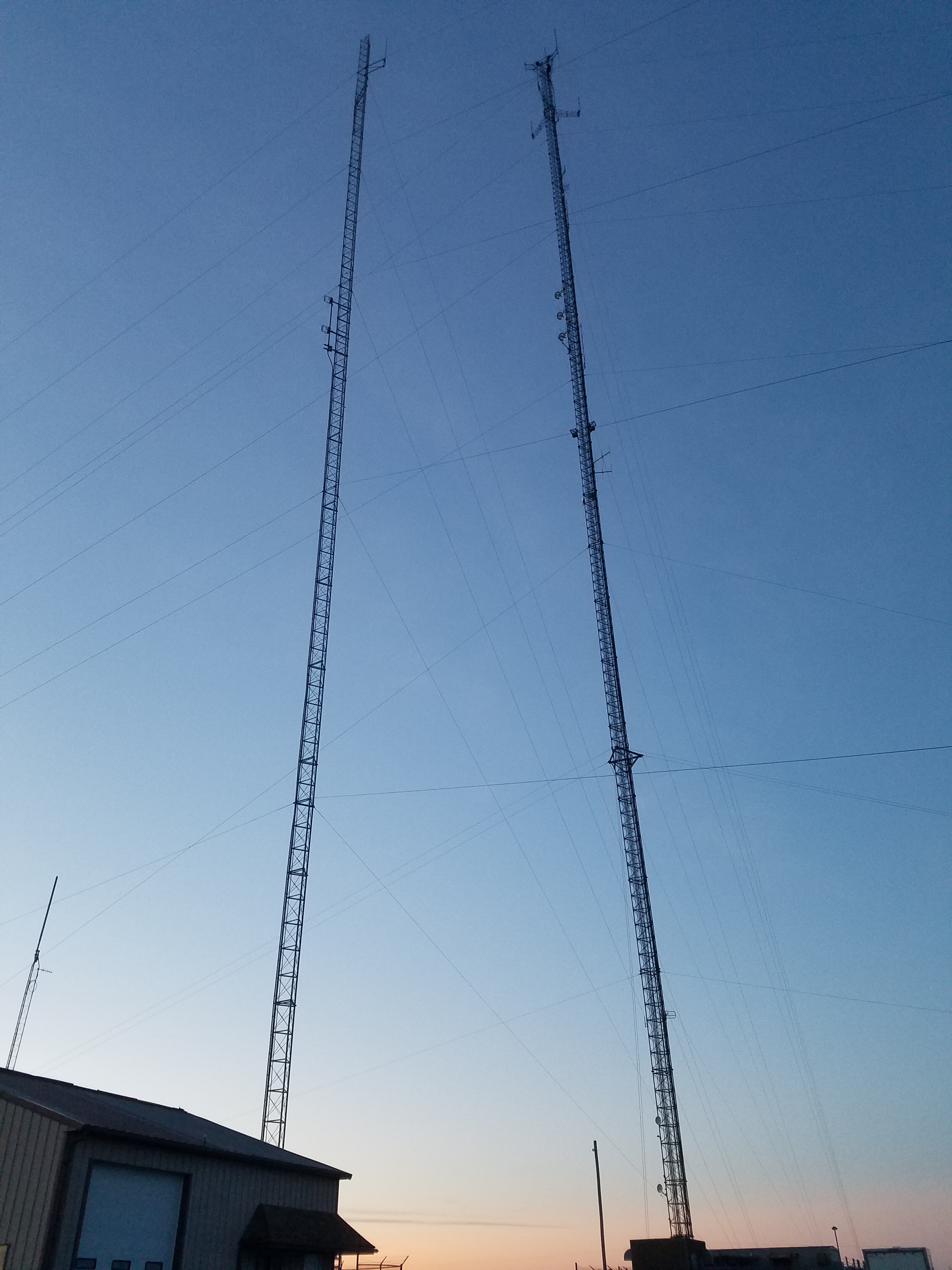 WEFT Antenna/Tower Project Update
Updated 5/1/20 Back On The Air at 100% Power!
On Wednesday March 5th we shut down our transmitter and disconnected everything in the old shack, moved it to the new enclosure and connected everything up. After running some tests we powered up the transmitter and are once again broadcastng over the FM airwaves. We were off the air from about 8:30 am to about 6:00 pm.
The FCC required us to run at 50% power for up to 30 days to ensure we weren't interfering with other signals in the area. They gave us approval to increase our power back up to 100% and we did that on the evening of April 29, 2020.
We thank our Community Partners and supporters for their financial help getting this project completed. Thanks to the tower crew from AMF Electronics in St. Louis who worked around some crappy weather & donated some critical cable and parts. We mainly want to thank you, all our listeners for your support and patience!
---