About WEFT
What makes WEFT 90.1 FM different from all commercial stations and most public radio stations is that we are owned and operated by members of the community we serve. WEFT is about variety, diversity and more.
---
Mission Statement
WEFT 90.1 FM is a non-commercial radio station locally owned by Prairie Air, Incorporated, a not-for-profit corporation.
WEFT 90.1 FM is an accessible, responsible and responsive radio alternative, serving the diverse communities of radio listeners in East Central Illinois and worldwide listeners via our stream.
Link to WEFT's full Mission Statement.
History
WEFT's first began broadcasting on the FM airwaves on September 26, 1981, you can read a short version of WEFT's History here.
WEFT Video from the 90's https://youtu.be/X0EJEIGP4BQ Clips of many WEFTies who helped make WEFT what it is today. How many do you recognize?
---
Governance
On our Governance page you'll find all the info about the Board of Directors for Prairie Air Incorporated, board meeting minutes, Prairie Air Incorporated Bylaws, and WEFT Standard Operating Procedures (SOPs).
---
Proposing a WEFT show
Link to Getting a show.
---
Administrative Contacts
If you want to contact any of WEFT's Administrators, visit our Administrative Contacts Page .
Music Contacts
If you want to contact any of WEFT's Genre Directors, visit our Music Committee Contacts Page .
---
Picture of the Month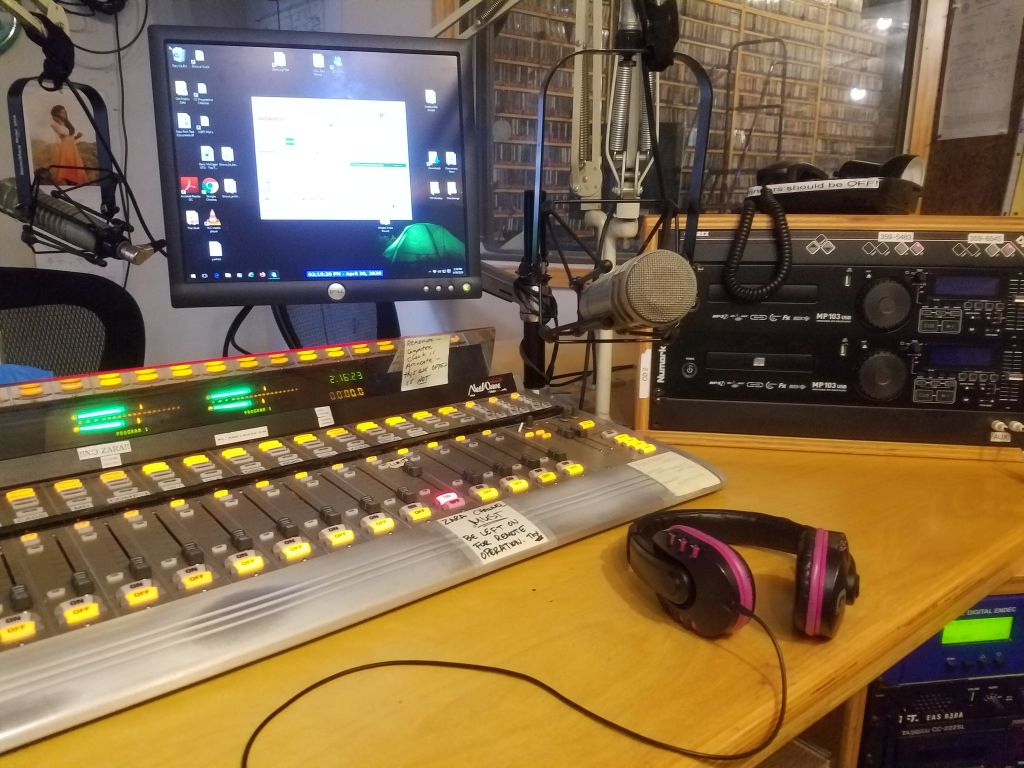 Previous pictures WEFT's COVID-19 Airshifter Safety Tips WEFT's old and new towers WEFTies at the Holiday Shop & Stroll - Saturday December 14, 2019 WEFT's new antenna is starting to arrive - Monday November 4, 2019 - lots of work still remains WEFT Fest Crowd - Sunday September 8, 2019 Seven Saints Beer Garden CCHCC/WEFT Benefit - Saturday August 3, 2019 at The Iron Post WEFT 4th of July float 2019 WEFT Fest 2018 on the street Kilborn Alley in WEFT T-shirts WEFT's attic used to be a gambling joint - The Turf Club Blues Hall of Famer Eddie Shaw, Jackie Scott and Bob Santa Ra Rasta James - 4th of July Parade WEFTfest 1981 - Captain Rat and The Blind Rivets the origin of the albums upstairs - Prairie Air News - July 1979 4th of July 2016 WEFTie - WEFT's mascot! WEFT's original call letter's were WERU
---
WEFT Sessions
Thanks to our friends at UPTV - Urbana Public TV they film and edit the video and post it on YouTube
WEFT Sessions is currently on hiatus from live performances due to COVID-19 concerns. Each Monday night at 10:00 WEFT brings you an encore performance from our WEFT Sessions library.
Here's one of the most popular videos from the WEFT/UPTV Archives with over 700 views
Here's a few recent WEFT Sessions
Mike Feldman's Collection WEFT's ace sound engineer for WEFT Sessions and other live music also occasionally has time to film some of the great artists that have performed at WEFT http://sessions.weft.org/Media_Other/ Videos by artists such as Cash McCall, Jeff Jensen, Tom Holland, Mackville, William Marsala and Bryan & Aaron Wilson.
WEFT Youtube Channel www.youtube.com/user/WEFT901FM Updated with UPTV WEFT Sessions and Prairie Monk shows on a weekly basis.
---
WEFT - In the Media
If you have questions contact WEFT's Station Manager at 217-359-9338.