About WEFT
What makes WEFT 90.1 FM different from all commercial stations and most public radio stations is that we are owned and operated by members of the community we serve. WEFT is about variety, diversity and more.
---
Mission Statement
WEFT 90.1 FM is a non-commercial radio station locally owned by Prairie Air, Incorporated, a not-for-profit corporation.
WEFT 90.1 FM is an accessible, responsible and responsive radio alternative, serving the diverse communities of radio listeners in East Central Illinois and worldwide listeners via our stream.
Link to WEFT's full Mission Statement.
History
WEFT's first began broadcasting on the FM airwaves on September 26, 1981, you can read a short version of WEFT's History here.
---
Governance
On our Governance page you'll find all the info about the Board of Directors for Prairie Air Incorporated, board meeting minutes, Prairie Air Incorporated Bylaws, and WEFT Standard Operating Procedures (SOPs).
---
Proposing a WEFT show
Link to Getting a show.
---
Administrative Contacts
If you want to contact any of WEFT's Administrators, visit our Administrative Contacts Page .
Music Contacts
If you want to contact any of WEFT's Genre Directors, visit our Music Committee Contacts Page .
---
Picture of the Month (from the WEFT Archives)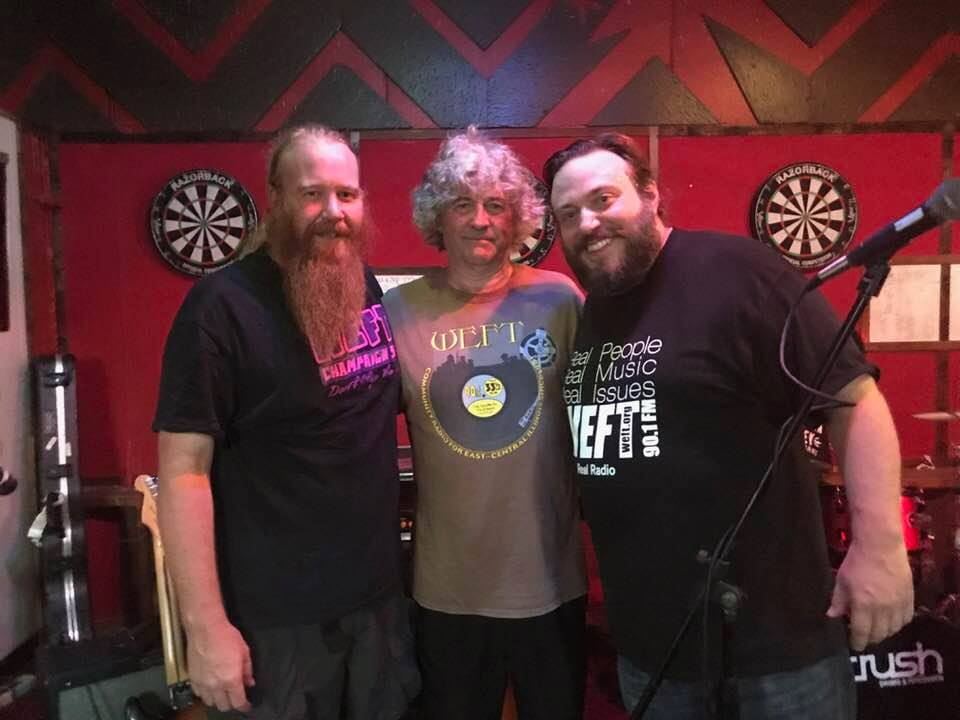 Previous pictures WEFT's attic used to be a gambling joint - The Turf Club Blues Hall of Famer Eddie Shaw, Jackie Scott and Bob Santa Ra Rasta James - 4th of July Parade WEFTfest 1981 - Captain Rat and The Blind Rivets the origin of the albums upstairs - Prairie Air News - July 1979 4th of July 2016 WEFTie - WEFT's mascot! WEFT's original call letter's were WERU
---
WEFT - In the Media
Smile Politely article - April 11, 2017 - Kevin Elliott, A soldier of the "blues" - by Sal Nudo
News-Gazette article - February 9, 2017 - Todd Durnil, host of Bleecker Street - "And the Grammys will go to ..."
News-Gazette video - January 10, 2017 - MJ's Minute: Lainey Emmons - Station manager at WEFT 90.1-FM, and Centennial grad, visited our studios to talk non-profits with our Marcus Jackson.
News-Gazette article - May 5, 2016 - Notes-Worthy: Renee Angelah, C.U. Bands and Fans' Terry Brown chats with WEFT host Renee Angelah
News Gazette article - February 14, 2016 - Todd Durnil, host of Bleecker Street previews the 58th Annual Grammy Awards
News Gazette article - November 08, 2015 - Artist feature on Station Manager, Lori Serb
News-Gazette article - September 11, 2014 - Pledge Party bringing the Funk to town
News-Gazette article - July 3, 2010 - WEFT's new solid-state transmitter
Boca Raton News - December 18, 1983 - Press release about WEFT's early days sent to national news outlets
If you have questions contact WEFT's Station Manager at 217-359-9338.