News From Neptune Saturday 10:00 am - 11:00 am
News from Neptune is an hour of discussion of the news of the week and its coverage by the media, hosted by Paul Mueth. The show is named in honor of Noam Chomsky, who said, "Either you repeat the same conventional doctrines everybody is saying, or else you say something true, and it will sound like it's from Neptune."
The program was entitled News from Neptune based upon an interest in Chomsky's account of U.S politics. It has been on WEFT on Saturday mornings for four U.S. presidential administrations. The first shows covered Iraq's invasion of Kuwait.
Shows are archived in mp3 format at 192kbps for fast downloads.
June 2019 shows
May 2019 shows
April 2019 shows
March 2019 shows
February 2019 shows
January 2019 shows
December 2018 shows
November 2018 shows
October 2018 shows
September 2018 shows
August 2018 shows
July 2018 shows
June 2018 shows
May 2018 shows
April 2018 shows
March 2018 shows
February 2018 shows
January 2018 shows
December 2017 shows
November 2017 shows
October 2017 shows
September 2017 shows
August 2017 shows
July 2017 shows
June 2017 shows
May 2017 shows
April 2017 shows
March 2017 shows
February 2017 shows
January 2017 shows
December 2016 shows
November 2016 shows
October 2016 shows
September 2016 shows
August 2016 shows
July 2016 shows
June 2016 shows
May 2016 shows
April 2016 shows
March 2016 shows
February 2016 shows
January 2016 shows
Archives of additional 2015 News From Neptune Shows
Support WEFT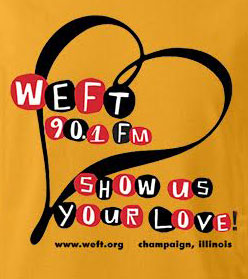 Thanks to everyone who donated during our Pledge Drive.
Even though the drive is over, it's never too late to donate!
To donate online, check out our Support WEFT page. Questions? Give us a call, 217-359-9338.