Big Al's Community Chat Alternating Wednesdays 8:00 pm - 9:00 pm
Big Al's Community Chat is broadcast the 2nd and 4th Wednesday of each month, it alternates with the Sync Sound System which airs on the 1st, 3rd and 5th Wednesday.
It is a public affairs show that hopes to enlighten and educate WEFT listeners to the duties and responsibility's of elected and appointed officials. In future shows it will bring exciting guests in many different areas of politics, business, sports, agriculture etc. Host: Al Kurtz
Shows are archived in mp3 format at 196kbps for fast downloads.
March 2017 shows
February 2017 shows
December 2016 shows
November 2016 shows
October 2016 shows
September 2016 shows
August 2016 shows
July 2016 shows
June 2016 shows
May 2016 shows
April 2016 shows
March 2016 shows
February 2016 shows
January 2016 shows
Archives of Big Al's 2015 shows
Support WEFT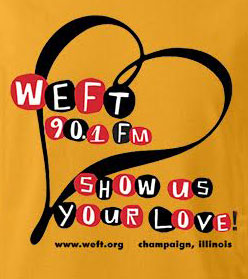 WEFT is holding our Pledge Drive, if you enjoy our Public Affairs Archive please consider making a donation at this time!
To donate online, check out our Support WEFT page. Questions? Give us a call, 217-359-9338.
Thanks to everyone who donated during our Pledge Drive.