Catch the Beat from Market Street Wednesday 5:30 - 6:00 pm (pilot shows 9/13/23 - 11/08/23)
Catch the Beat from Market Street will offer weekly commentary about important issues in CU, from city, county and state agendas to what's going on in the schools, at Parkland, and the University. We'll pay attention to the challenges of climate change, crime, homelessness and food insecurity. And on the lighter side, music, theatre, and the arts. Come Catch the Beat on Wednesdays at 5:30.
Shows are archived in mp3 format at 192kbps for fast downloads.
November 2023 shows
November 08, 2023 - (last show of pilot series) - This week's show features an interview with Riley Snyder who teaches Art at Decatur Altenative Education.
November 01, 2023 - This week's show features an interview with Eric Bohlen, WEFT Station Manager, about the October 2023 Grass Roots Radio Conference.
October 2023 shows
September 2023 shows
September 27, 2023 - This week's show features co-host and interviewee, Carol Spindel re: the local and national role of the American Civil Liberties Union, with focus on the SAFE-T Act and what you need to know to speak out about book bans.
September 20, 2023 - This week's show features co-host Meadow Jones, interviews with Cedar King re: homelessness issues at CU@Home, and Olivia Bunting re: the new Folk School at Allerton, called The Farms.
September 13, 2023 - Inaugural Show! Features interviews with Sandra Ahten about phone contract for the Champaign County Jail, and Eric Bohlen, new station manager, about his ideas for WEFT.
Support WEFT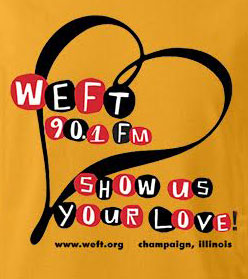 Thanks to everyone who donated during our Pledge Drive.
Even though the drive is over, it's never too late to donate!
To donate online, check out our Support WEFT page. Questions? Give us a call, 217-359-9338.