In The Know Monday 6:00 pm - 7:00 pm
Hosted by Sheri Williamson. Sheri's show will focus on featuring information on local resources (possibly mental health related, parent/children/school resources, topical social issues, etc.) for Champaign-Urbana and the surrounding community. Most weeks, Sheri will have local guests in studio to discuss resources/topics. "In The Know" premiered on WEFT's airwaves September 11, 2017. Here's the premier show on Youtube Episode #1: Racism
Shows are archived in mp3 format at 196kbps for fast downloads.
December 2017 shows
November 2017 shows
October 2017 shows
September 2017 shows
Support WEFT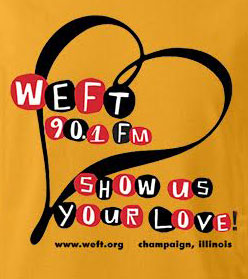 Thanks to everyone who donated during our Pledge Drive.
Even though the drive is over, it's never too late to donate!
To donate online, check out our Support WEFT page. Questions? Give us a call, 217-359-9338.