WEFT One Offs and Specials Programs collected from various dates and times.
A collection of WEFT broadcasts which are either one time events or special topics which were broadcast at times not normally archived via our Public Affairs archive process.
Shows are archived in mp3 format at 56kbps for fast downloads.
NOTE: CU Progressive News programs previously indexed here have been moved to a new web page:
CU Progressive News
Support WEFT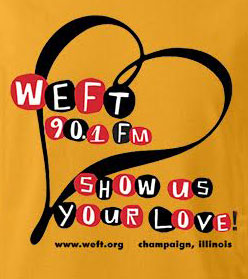 Thanks to everyone who donated during our Pledge Drive.
Even though the drive is over, it's never too late to donate!
To donate online, check out our Support WEFT page. Questions? Give us a call, 217-359-9338.