The World We Live In Saturday Noon - 1:00 pm
The host, Ben, will focus on news, current events, local, state and national politics and human interest stories.
Shows are archived in mp3 format at 192kbps for fast downloads.
October 2018 shows
September 2018 shows
August 2018 shows
July 2018 shows
June 2018 shows
May 2018 shows
April 2018 shows
March 2018 shows
February 2018 shows
Support WEFT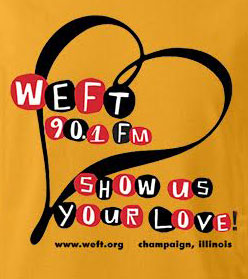 Thanks to everyone who donated during our Pledge Drive.
Even though the drive is over, it's never too late to donate!
To donate online, check out our Support WEFT page. Questions? Give us a call, 217-359-9338.