Higher Ground Saturday 8:00 am - 10:00 am
Higher Ground - Carol and Aaron Ammons - 2nd & 4th weeks
Higher Ground is a public affairs show that features Carol and Aaron Ammons on the 2nd & 4th Saturdays. On the 1st & 3rd Saturdays this time slot features music hosted by Lady Lynn Live Inspirational Show. Higher Ground focuses on local affairs and on personal improvement that leads to community development. This public affairs show discusses issues that primarily affect the African-American community, however, the larger social fabric of America is also strategically interwoven into the dialogue.
HigherGround acknowledges and encourages the compassionate/passionate spirit within each of us. This spirit connects, supports and raises our collective consciousness towards the honoring of every member of community through sincere welcoming of their whole-hearted participation in it.
Check out their Higher Ground WEFT 90.1 FM Facebook Page
Shows are archived in mp3 format at 192kbps for fast downloads.
May 2022 shows
April 2022 shows
March 2022 shows
February 2022 shows
January 2022 shows
December 2021 shows
November 2021 shows
October 2021 shows
September 2021 shows
August 2021 shows
July 2021 shows
June 2021 shows
May 2021 shows
April 2021 shows
March 2021 shows
February 2021 shows
January 2021 shows
December 2020 shows
November 2020 shows
October 2020 shows
September 2020 shows
August 2020 shows
July 2020 shows
June 2020 shows
May 2020 shows
April 2020 shows
March 2020 shows
February 2020 shows
January 2020 shows
December 2019 shows
November 2019 shows
October 2019 shows
September 2019 shows
August 2019 shows
July 2019 shows
June 2019 shows
May 2019 shows
April 2019 shows
March 2019 shows
February 2019 shows
January 2019 shows
December 2018 shows
November 2018 shows
October 2018 shows
September 2018 shows
August 2018 shows
July 2018 shows
June 2018 shows
May 2018 shows
April 2018 shows
March 2018 shows
February 2018 shows
January 2018 shows
December 2017 shows
November 2017 shows
October 2017 shows
September 2017 shows
August 2017 shows
July 2017 shows
June 2017 shows
May 2017 shows
April 2017 shows
March 2017 shows
February 2017 shows
January 2017 shows
December 2016 shows
November 2016 shows
October 2016 shows
September 2016 shows
August 2016 shows
July 2016 shows
June 2016 shows
May 2016 shows
April 2016 shows
March 2016 shows
February 2016 shows
January 2016 shows
Archives of additional 2015 Higher Ground Shows
Support WEFT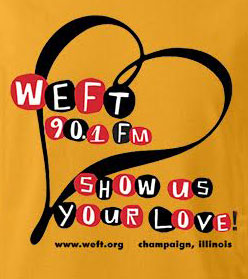 Thanks to everyone who donated during our Pledge Drive.
Even though the drive is over, it's never too late to donate!
To donate online, check out our Support WEFT page. Questions? Give us a call, 217-359-9338.