The Midwatch Was broadcast Wednesday's 6:00 - 8:00 pm - ceased production as of Decemeber 07, 2016
Hosted by Reasonable Man Stan. Guest host Niecey Shizenji fills in during Stan's leave of absence. The Midwatch is a political current affairs talk show.
Listeners are invited to call the show and join in live on the air at 217-359-5483 to share your opinions and thoughts on the issues of the day. Hosts are flexible in the topic that a listener may bring up, so feel free to step in with whatever is motivating you at the moment. Hosts strive to have at least one guest each week from the community, or from some political group. Thanks for your support.
Shows are archived in mp3 format at 56kbps for fast downloads.
December 2016 shows
November 2016 shows
October 2016 shows
September 2016 shows
August 2016 shows
July 2016 shows
June 2016 shows
May 2016 shows
April 2016 shows
March 2016 shows
February 2016 shows
Support WEFT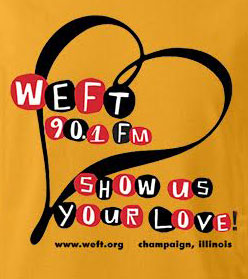 Thanks to everyone who donated during our Pledge Drive.
Even though the drive is over, it's never too late to donate!
To donate online, check out our Support WEFT page.
Questions? Give us a call, 217-359-9338.