Radio Free Labor Saturday - 11:00 am
Radio Free Labor airs Saturdays from 11:00 am to 1:00 pm. It's hosted by Gus Wood, Stephanie Fortado and Bob Paleczny. The show will discuss and debate current events, historical topics and political, economic, social and cultural aspects of working people across the world.
Shows are archived in mp3 format at 192kbps for fast downloads.
May 2023 shows
April 2023 shows
March 2023 shows
February 2023 shows
January 2023 shows
December 2022 shows
November 2022 shows
October 2022 shows
September 2022 shows
August 2022 shows
July 2022 shows
June 2022 shows
May 2022 shows
April 2022 shows
March 2022 shows
February 2022 shows
January 2022 shows
December 2021 shows
November 2021 shows
October 2021 shows
August 2021 shows
July 2021 shows
June 2021 shows
May 2021 shows
April 2021 shows
March 2021 shows
February 2021 shows
January 2021 shows
December 2020 shows
November 2020 shows
October 2020 shows
September 2020 shows
August 2020 shows
July 2020 shows
Link to 2016 and earlier World Labor Hour shows
Support WEFT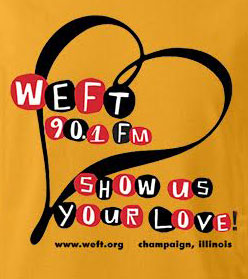 Thanks to everyone who donated during our Pledge Drive.
Even though the drive is over, it's never too late to donate!
To donate online, check out our Support WEFT page. Questions? Give us a call, 217-359-9338.