Disability Beat Monday 5:00 pm - 5:30 pm
Hosted by Vicki Niswander. Disability Beat is about and for people with all types of disabilities with a slant toward social justice, community supports, inclusion, accessibility, freedom and choice. For podcasts and more information, visit the homepage at Link
Shows are archived in mp3 format at 196kbps for fast downloads.
April 2019 shows
March 2019 shows
February 2019 shows
January 2019 shows
December 2018 shows
November 2018 shows
October 2018 shows
September 2018 shows
August 2018 shows
April 2017 shows
March 2017 shows
February 2017 shows
January 2017 shows
December 2016 shows
November 2016 shows
October 2016 shows
September 2016 shows
August 2016 shows
July 2016 shows
June 2016 shows
May 2016 shows
April 2016 shows
March 2016 shows
February 2016 shows
January 2016 shows
Archives of additional 2015 Disability Beat Shows
For podcasts and more information, visit the homepage at disabilitybeat.com .
Support WEFT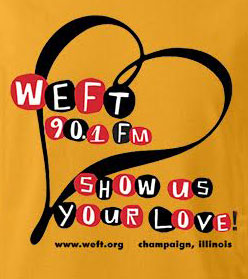 Thanks to everyone who donated during our Pledge Drive.
Even though the drive is over, it's never too late to donate!
To donate online, check out our Support WEFT page. Questions? Give us a call, 217-359-9338.